Room for One More is a 501(c)(3) non-profit shelter for homeless, abused, abandoned animals whose time has run out at Citrus County Animal Services. It is our mission to ensure that one day, all animals in Citrus County are valued as companions and have loving, "Forever Homes". We are dedicated to trying to raise the awareness of the public of the importance of spaying/neutering their pets. The Humanitarians of Florida, Inc., assist in providing low cost spay/neuter and medical services for the many animals who pass through our shelter.
Room For One More All Volunteer Crew! Lisa and Sarah a/k/a Mercedes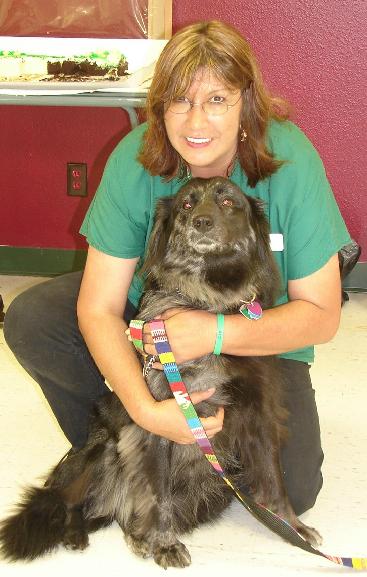 Hello! My name is Lisa! Welcome to "Room For One More", located in Citrus County, Florida! This site is dedicated to all those loyal companions who need someone to save them. This is my life-long dream, to help save those abused, lost, abandoned, neglected, stray animals who are looking for their "Forever Home"!
I've always had a special affinity for animals. Even when I was very young, I could see in their eyes that they felt what I felt. If I was sad, so were they; if I was upset, so were they. Sometimes I thought they were the only ones who understood how I felt. They never judged me, never accused me, never lost patience with me.
After spending a year working at Animal Control, I realized that I could no longer see these sad, homeless dogs and cats be "put to sleep" (a nice way to say kill) because some irresponsible pet owner did not take responsibility for his actions. I had done everything I could to see that they at least knew someone cared about them and loved them before they had to be taken into the "inner room" for what was the inevitable. But it wasn't enough. I saw the fright in their eyes every night in my dreams and heard their whimpers. I had to do something that would make a real difference. I decided that the answer to the overpopulation of unwanted pets was not to destroy them but to "actively" seek people to give some of these pets a loving home, and to teach people to be responsible pet owners.
Many pets don't last in a home because their owners don't take the time to teach their pets what is acceptable behavior. They complain because their pet chews up things or soils in the house but they don't take the time, patience and understanding to teach their pet what they would willingly and eagerly learn. So it has become our job to give these poor unwanted pets a loving home, to meet their health needs and to teach them to become a loving family member. Many of them come to us so flea infested and undernourished they can barely stand. We bathe them, brush them, talk to them and teach them to trust. If they need to be taught manners, we teach them in hopes that someone will see what we see, that someone will look in those eyes and feel what we feel.
And so, "Room For One More" was born in March of 2003! Since that time, we have found "Forever Homes" for many deserving dogs and numerous cats! But there is still a lot of work to do!
Take a look around! Make sure you read "Tears For The Babies" and the "Letters" page. Hopefully you will see something that interests you, maybe something that pulls at your heart strings and brings a tear to your eye. Maybe you will learn something or maybe this will just help you become aware of the extent and seriousness of the plight of lost, abandoned pets. Visit often. Please feel free to e-mail us at any time with questions, ideas or concerns.
---
OUR LEGAL STATUS
Doc #N04000009645 issued October 11, 2004, on file in Tallahassee. Registered with Florida Department of Agriculture & Consumer Affairs. Copy of the official registration and financial information may be obtained from the Division of Consumer Services by calling toll-free 800-435-7352 within the state. Registration does not imply endorsement, approval or recommendation by the State. All dues and contributions are tax exempt to the full extent allowed by law. Our registration number issued by Florida Department of Agriculture & Consumer Services is CH18409. 100% of all contributions are retained by Room For One More Pet Rescue, Inc. No percentage is retained by any professional solicitor.