Hi Bonnie!
I can't believe it's been more than 3 years since I took my little Parker home. He is a little grayer, but still the spry, energetic puppy I fell in love with the minute I met him. Remember his Boston Terrier friend Maggie? Well, Maggie was adopted by my mother and father a little over a year ago. Parker and Maggie are truly bonded and she is his #1 girl. She comes to our house a couple times a week to have play dates while I'm at work. Whenever I get home after one of their play dates, there are babies all over the house and they are both exhausted from all the playing! It usually takes them a day or two to rest up after a day together.
One of Parker's most favorite activities is Kayaking! Parker sits on the bow of my kayak and loves to up and down the river. He gets a little scared when the manatees come up for air, but he has gets used to them pretty quickly. He loves to come out and walk on the trails with me and whines with excitement when we pull into the parking lot at the dog park.
Parker is the friendliest dog I have ever seen! He can make friends with anyone, human or animal. He loves cats too and easily makes them feel at ease with him after a few minutes. Parker has also become quite the protector of his home, his car and mommy! Whenever someone comes to the door, too close to the car or a stranger comes up to me he let's them know who's boss with a few fearsome barks and a couple kicks of his back legs!
Everytime I look at Parker's adorable little face, I love him more and more! He is the biggest baby I know! He has 8 beds between the house, porch and car. He is very vocal when he wants his dinner, but will always bring me a baby when I'm making it. He prefers bottled water to tap. He has gotten into the habit of "telling" me when it's time for bed and if I fall asleep on the couch, I usually wake up to find him on my bed keeping my pillow warm.
THANK YOU! THANK YOU! THANK YOU! For rescuing him and helping to make him a part of my family. He was such a little baby when he came home with me, now he's a little man! I love him more everyday and can't stand to be away from him for even a night. I can't imagine my life without him and I am greatful everyday for the joy he brings to everyone he meets! Everybody loves Parker within minutes! Thank you for my little furry heart! I treasure him everyday.
Hugs & Puppies!
Heather & Parker "The Punky Monkey"
Sierra and her Buddies
Dear Pat and staff,
How is everyone? I am doing great and I am writing to tell you all about my new home. My new family and I have bonded so well! They love me so much- they take me everywhere they can. I have a new sister named Picaboo-she is real sweet and then I have two brothers named Cadbury and Custard.(they are kittens). I really have a good time with the kittens. We playfully chase each other around and then they snuggle up beside me for long naps.
Many of the neighbors have dogs so I have met some new friends…Murphy and Farley are golden retrievers like me , Panda is a fluffy big dog, and Buddy and Maggie are lab/retriever mixes. In the evening we meet up and play.
What I really enjoy most is just being near my family members. If they are grilling in the back yard I am right beside them, if they are watching TV I am right at their feet or my head is on their lap. They take me to the dog parks often and I go for walks throughout the day. Dad works but mom and the kids are home all day (they homeschool) so I get lots of love all day long. When the family leaves to go into the car I give them my 'look' and they usually take me with them if they can. Infact, I even spent a good part of Saturday at a nursing home. Boy, did I get a lot of attention there! I was so well behaved and loving to the residents that they want me to come back every week.
Recently, my family discovered that I Love, Love Love water! (And chasing seagulls)! We are planning a day at Fort Desoto so that I can visit the dog park and swim at the dog park. My family has kayaks so I can't wait to go kayaking with them. My sister Picaboo does some of these fun things with me me but because she is a old gal sometimes she prefers to rest at home.
In the evening when I am resting with the mom and dad I hear them talking about how blessed they are to have me and how grateful they are to you and the staff for placing us together. I am especially thankful for all of you and all you did for me…my ears are getting much better with medicine and regular vet visits. I have gained 12 lbs so now I am at my ideal weight and my skin and coat are near perfect. Best of all, I do not itch any more!
Thank you again for all you did. Your kindness has touched so many lives- beyond just mine. Please know that the work you are doing is so valuable and so greatly needed..Enjoy the photos. This is the first time they have ever tried sending photos so I hope you can view them.
With all my love,
Sierra
---
Dear Bonnie,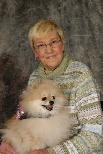 It will soon be 4 years that beautiful Bonnie came into our lives and I love her more every day. She has been such a delightful little girl to have, she never ceases to amaze me with her antics and also her shy and coy little ways. I can never thank Lisa enough for letting us have her. She gets along very well with everyone one man or animal and she is a true therapy dog and has delighted so many very ill and terminally ill persons on our visits to the hospital. She also has made several appearances at Krysilis, which is a place of mentally and physically challenged persons of all ages. We have another up coming event with them on March 23rd and I think they all would enjoy coming to our house which they did in November and delighted all the dogs, we had two fosters at that time. Our foster #70 went to her forever home yesterday in St. Paul, Minn. so it is very quiet around our house today. Emme Lou and Kricket are getting older as is Bonnie, 8 and 9 and all tend to be couch potatoes. Suzie Q was only a pup of 7 months and she was full of fun and harassment for them.
Bonnie and I will be leaving tomorrow for a vacation, she will stay in Kansas City with Melanie and her 6 sheltie cousins while I am gone. Merrie and I will be going to Arizona and I will finally full fill a dream of a very long time of going to Best Friends Animal Sanctuary in Kanab, Utah, but only with the promise I will not bring anything home.
When I look at both sites oh how the memories flow back and I do so miss all of you, a very important time of my life. Another life change but I do keep very busy here and the need is great in one aspect or another. After a short break I fully intend to be fostering again and have been so fortunate to recruit two more here.
The picture attached is at a fund raising dog party put on by the Humane Society of Wright County Iowa. A photographer donated his time and expertise to take pictures and put them on a CD for a donation. It was an intimidating day for Bonnie though as she was the smallest dog there. She looked so beautiful and had many, many raves which kind of went to her head and all of the other dogs were so big and when they brought in a pony she was ready to go home. Since this picture we have had her hair all cut to the skin and she is somewhat over weight but still beautiful and such beautiful eyes.
I wish you all well and I look at the site so often. I love all the pictures news updates everything. All have come so far from just 4 years ago.
Thanks to all of you that allowed me to have a small part in all of this.
Yours truly, Bonnie
KISMET'S UPDATE
Hi There!
I've been thinking about writing you, but have been so busy! Kizzy is doing great – I just love him to pieces!! We've had 2 more wildlife "experiences"… Are you ready for a long story?
Last spring a bear came up on the deck and managed to empty the birdfeeder (somehow he got over the 4 foot fence). Freaked me out!! Then, one night last week I was taking Kizzy out into the back yard for his last trip before bedtime, and we heard some noises in the woods just outside the fence, but couldn't see anything. It was clear though, that whatever it was, was big. Luckily, "Hurry up, go potty" worked and then we zipped inside. The next night, we heard even more noise so I grabbed the bear repellant (like heavy duty mace) that I had bought last spring and I went out crashing 2 pot tops together to make lots of noise to scare off whatever was out there. (Anyone watching would have been rolling with laughter). Well, the thrashing around noises that resulted from my pot tops scared me to death, so I grabbed Kizzy by the collar and dragged him into the house as fast as I could. He didn't know WHAT was happening! His last trip that night consisted of me standing just outside the basement slider with an umbrella in one hand and Kizzy on a short leash in the other hand. Thank goodness, "Hurry up, go potty" again worked quickly. I decided to call Fish and Game in the morning. So, the next morning I let Kizzy out into the backyard and went with him. Almost immediately, I heard twigs breaking, and I'm thinking: "It's huge and what the hell is it doing around here in daylight!!?!" But the yard was clear so I let Kizzy fool around and do his thing. Then about 60 or 70 yards away, through the woods at the bottom of the hill, I saw a large brown furry body. I mean HUGE!!! It was a moose! Actually there were two of them… I was SO relieved it wasn't a bear! They haven't been around since then – probably avoiding the crazy lady with the noisy pot tops.
Story #2 is still in progress. Kismet woke me up this morning barking and growling like a crazy dog. I thought maybe the builder was here or something. So I got up and went downstairs, and saw NOTHING. Later, I'm eating breakfast and I see this very large bird frantically trying to get OUT of the new screened porch. It must have flown right into a screen, as one was torn from its frame. It was a Ruffed Grouse, about the size of a chicken. I went out with a broom to try and guide it to the door, but just panicked it so much that it flew into another screen and ripped that one from its frame too. Now it's in the yard trying to walk through the fence, which is not going to work! It tried to fly once or twice, but they need some room to take off and he was too close to the fence. So now I can't let Kizzy into the back yard until I get that thing out or I'll end up with another pigeon-type situation!!
Good grief! Well I'm going out now to give it a try – wish me luck!
Paula
Sadie and Mom Kirstin
Thank you fantastic Rescue!
This is just a quick thank you again for your great organization. In December, we adopted Sadie, a boxer/dalmation mix pup from you. Our daughter, Kirstin, chose the pup all the way from Balad Iraq, where she was serving as a trauma nurse with the USAF. She is a sweet…highly energetic dog and gives lots of love. We wanted to you to have a photo of her with the pup when she met her upon her visit home after coming home from Iraq. They will become best friends through the years.
We want you to know that we appreciate all that you do for not only the animals that you rescue but also the families that adopt them.
Thank you again,
Kathy Carlson
---
Hi Pat!
I have been meaning to send you an e-mail and give you an update on Harley. He is doing great. He's such a wonderful companion and so good and gentle.We have finally managed to get through the housebreaking training with a great deal of success, actually we have been accident free for about 3 weeks and hopefully it will continue. We are now working on some discipline of staying in the back yard without the leash. Of course, squirrels are a big challenge when it comes to chasing them. He can't seem to hear anything then but he is getting better when we go out and he stays pretty close. I let him have his run and sniff everything and then he's ready to come back in.
He's still very afraid of men and strangers. I keep taking him out back to my neighbor when he's outside, he's an elderly gentlemen. Harley is afraid of him but now when I take him over there he will get behind me and kind of comes out to the side wagging his tail as though he would really like to get to know this man better but still is afraid. Hopefully, he will overcome his fear.
I had several ladies here for Mother's Day dinner and this was something that he's never experienced with a few people here. He did very well, of course, he knew two of them and then he jumped on the couch and gave my good friend a kiss. I was so happy about that because she so wanted to be friends with him. He had to do it in his own time.
We walk each morning, he loves it. Gets to pee on everyone's mailbox post and sniff everything. He begs me in the morning when it gets walk time. Isn't that great?
When I have more pictures of him that are good I will e-mail them.
Just wanted you to know how happy I am with Harley and how well he has adapted to his new home. It's been six weeks and he has made great strides.
Thank you for making it possible for me to have him.
Margie
---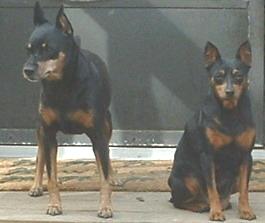 Hello Karen,265 LanceMia2
You probably don't remember me, but my name is Jacci and my family adopted a little Mini Pinscher from you named Lance about a year ago. I just wanted to say that he is SUCH a sweet baby and we are thankful every day for him. If everyone in Florida had the opportunity to meet Lance, then they would all want rescue dogs and the shelters would surely be empty in no time.
I've attached a couple of pictures for you; one is of Lance and his sister in our vacation hotel at Cocoa Beach, and the other is of them when we were visiting in Miami. Lance absoltely LOVES to travel with us, and he and Mia are inseperable!
Sincerely,
Jacci Chastain-Stevens
---
Dear Karron and Lisa,
Well, Kimmie and Skittles have been home for one month now and I wanted
to give you an update. First of all, they are just great! Both are doing wonderful. They are so full of life and love. They are real joy to have in our family. They both love to play with their toys and with Toby and each other. At first they wouldn't leave each other and they acted like they had never seen a toy. Now they play like they have been doing it forever. They even seem to have made up certain games to play. It is really funny to watch them.
Skittles has really blossomed. She doesn't even act scared at all, never hides anymore. She runs around, plays all the time, loves to be petted and held and she gives the best doggie kisses ever!! She use to be last to come forward for treats, food or to be petted, now she is first for everything especially greetings when I get home!
They all lay on me or beside me on the couch every night. I ask them if they are ready to watch TV and they come on a run to the couch. Skittles is the first one up, Kimmie likes to be lifted up.
I have a pet stroller for them and they absolutely love to go out in that every chance they get. The also love riding in the car. They have been terrific about using the litter box. They have only had a couple of mishaps. The girls actually do better than Toby at times. They all act like they have been together forever.
We all love them and they sure have added to our lives in a very special way. Thank you for taking care of them until we could all be together. Keep up the good work, we are looking forward to seeing you on March 19.
Christina, Gary, Jennifer & Toby, Skittles and Kimmie Lucas
---
Holly with mom Heidi
Hi Karron,
Merry Christmas and Happy New Year!!! We hope all is well with you, and Room For One More.Holly is doing GREAT! She celebrated her first Christmas, and got lots of toys! She was a little afraid with the wrapping paper, and camera, but loves her presents!
I volunteer at the Lowndes Humane Society, and I am one (of two) of the "Pet Therapy Program" coordinators. We have a wonderful certified evaluator, from "PTI", Pet Therapy Inc., that has volunteered his time. We have a small group of volunteers that visit with their dogs to the local nursing homes. I enrolled our Golden Retriever, Joey, a few months ago. He's not certified yet. When we visited the nursing home, he "hits the ground", and lays there, like a bump on the log! So he needs a little work before he is certified. Holly visited with me last week, at a 'Personal Care Home', and was wonderful! Everybody loved her! (No surprise to me!) She walked around the home and visited with everyone.
The little town we reside in (Nashville), decided they wanted to make a little more money. So after the New Year, all dogs will be Licensed. I have all documentation needed, except a spayed voucher. Could I please ask you to send me anything, that states Holly is spayed? Let me know if you can, and feel free to call me anytime!
Thank you!!!
Heidi Penaga (and Holly too!)
---
Coco Bear with Mom and Dad
Merry Christmas from Coco Bear in Maryland!She is doing very well – loves nearly everyone – and once is told "enough" stops barking and gets on with life. What a darling dog! Today we visited my Dad who has Altzheimers and we thought she might get overwhelmed as the folks came up to pet her (had her in the pouch), but although a bit wary – she licked everyone's hand even when they came from above . (Of course, I had my finger gently on her snout).
She hates the cold, and so runs out, does her business and is back in in a flash! The ride up was enjoyable – she loves the car, although she traveled mostly in her crate. Can't wait to try to get in it any time we are near it – she runs around it to check for open doors!
She is a dear – will meet everyone at Xmas – and we'll take her crate just in case she and Lexi – the whacko miniature greyhound who thinks she is a cat – and Minx, the cat who is a dog, are a bit too much. So far, so good. It's pretty obvious that she had 2 solid meals a day – and she seems content with that and some kibbles down during the day.
Have a Merry Christmas – we certainly will – and look forward to having warmer weather when we get back to Florida!
Barbara, Charles and Coco.
---
Oreo and Mom
We wanted to write and let all of you at "Room for One More" know how forturnate we are to have had Oreo come into our lives. We had recently lost our 14 year old Springer Spaniel, who we referred to as "our furry son." While researching options for a new pet on the internet, we came across Oreo's listing on your website, and knew that he was perfect for us! A call to Karron advised that many people were interested in adopting Oreo, but to complete an application and it would be considered. As luck would have it, we adopted Oreo on March 5th of this year.
It has taken us far too long to write to you, but we have attached a few photos that show you how Oreo is doing. He has a mighty fine life…………napping, playing watchdog, watching wildlife from the pool lanai, eating, playing, going for walks, and napping some more. As it does get cold here in Gainesville, Oreo is modeling his new winter coat in one of the photos.
He is my constant companion in my office, and my staff is used to hearing Oreo's "opinions" during teleconferences when the UPS man comes to the door. Everyone loves him…….friends and family alike. My mother, who is not a "dog person", has been converted. Whenever we travel to Savannah (where my parents live) for the weekend, the first question is always if Oreo will be coming along. We are spending the holidays at Hilton Head this year, and the prime concern was to find a home to rent that is pet friendly. After searching for hours on end, we are glad to say that Oreo will spend his first Christmas as a Vander Biezen with his new family.
We cannot sufficiently express our gratitude for the work that you do, and what Oreo means to us. We wish you the best in this holiday season!
Regards,
Terry, Cheri and Adam Vander Biezen
---
Hello! It has been almost one month since we adopted our little girl, Destiny. What a treasure she is!! She is such a good little girl! and we love her so much! She has brought so much pleasure to our family and were are enjoying her company very much. It is as if she was meant to be with us! She has acclimated her self very well to her new surroundings and has trained us very well. She sleeps in our bed with us at night, has a bed of her own in our bedroom, has a bed in the family room and also has her own spot on the sofa with a blanket. She is truly the center of our world. If a nose or ear washing is what you need she is always available. Although she is rarely alone in the house Destiny is always extremely happy to see the next person come home as she runs around the house, slides on the tile floor and whines and whimpers until she gets her belly rubbed and scratched.
I want to thank everyone involved in the adoption process for being so helpful and making the process so easy. Please thank Karron, as well, for being involved in the intial interviews, making those long distance phone calls and giving us the opportunity to love our little girl. Thanks to Pat and Christine for all your assistance. It was great to see Christine again and her familiar friendly way just made everything seem so right.
Our little girl is truly our Destiny. Thank you so much!
Linda and Rich Drake
---
Dear Room for One More Pet Rescue,
Back in the spring my husband and I adopted a beautiful, young Newfoundland/Retriever dog from your organization ("Molly") with the friendly help of foster-mom Pat, and we just wanted to let you know that things have been going so well for us all since then. We changed Molly's name to "Dahlia" since I grew up with a lovely canine friend with that same name ("Molly"), and Dahlia quickly became such a beloved part of our family! She's very intelligent
and, although at times mischievous, extremely loyal, generally perfectly obedient, and always affectionate. 🙂 She is rather protective as well, and feels as though it is her sole responsibility to keep her "little siblings"–the chinchillas and the parakeets–safe and well in line whenever they are allowed out to play. We couldn't have asked to adopt a sweeter dog, and are so grateful that we were able to make her such a wonderful part of our family!
Thank you so much for your part in bringing us all together; I just pray that you will be able to continue with your good work and help so many other furry friends find new, happy homes as well.
Attached is a photo of Dahlia with her "inside" best friend: our older tabby cat, Isabel. They create such trouble together sometimes (but it's always adorable)! Dahlia has many outside doggie friends, too, but we thought you might like to see her again in her new home environment.
Best wishes, and thank you again–
Karen, Ross, and Dahlia Deihm 🙂
---
Hi Pat,
Hope your vacation was a nice one and that the weather cooperated. Sometimes the weather can be a bummer in Maine. Down here we have had so much rain that slugs are eating up my plants and I do not dare put out bait for them as dogs are attracted to it. Have been hand picking the little buggers off my plants with a paper towel and dropping them into a pail of salt water. It works!!!
Anyway, I wanted to update you on Dilly boy. We believe he has found his forever home with us. He is doing great. Karran will tell you of one bad accident that happened a week ago, but so far, no others have happened. I think the leash walking had something to do with it. Now he runs like the wind in our 2 acre yard and does his business outside every day. He has learned the property lines and sticks to me almost like glue. When we walk, we walk off the property with a halter leash. That is working well too.
I was under the impression that Dylan lived with you and when Karren told me that was not the case and what his routine has been, then it was easier to help him establish a new routine here. He has a couple of little habits that need to be curbed. We have been working on these. One is, he likes to pick things out of the trash bin. The other he had to have been taught in another home somewhere. He will go in and jump up onto the bed, take down one pillow and hop off the bed after his morning outing. Feel it might take some time to retrain him on that one, but we can handle it. The last two nights, he has slept outside his crate and on the floor next to the bed. He will walk into his crate on occasion and check things out there, which is good. He really is so eager to learn and I feel he is doing great with us. He is gentle, sweet and only needs our time and love.
We believe he is a mixture of a standard Schnauzer and possibly German wire-haired pointer. Can you tell that he has won us over? 🙂 Also, we will keep his name Dylan. I do call him Dilly though.
Maggie & Wally
---
Parker a/k/a RayJay
Dear Karron,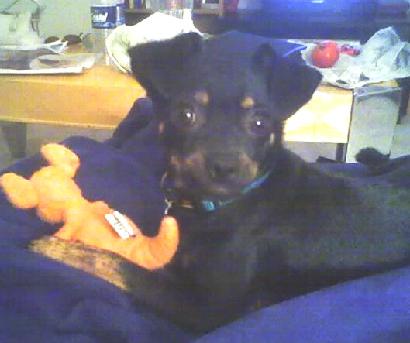 Parker has been a part of my family for almost 6 months now. I can't imagine my life without my little "Punky". He is the bright spot of my day and the reason I can't help but to smile after a hard day's work. He has completed his basic obedience class with flying colors. He has learned to sit, lay down, stay, wait, leave it, and settle. His favorite toys are the
beanie baby type from an old Winnie the Pooh collection of mine. His favorite is by far "Roo." He has more toys than my 8 year old nephew, and everyday we play the pick up game. He takes all of his toys out of his toy basket every morning, and every night I put them all back in.
We have found that he has very sensitive skin and needs to be bathed with special shampoo. He also has a sensitive stomach and has never had "people food" other than a
scrambled egg the other day when his tummy was upset and he didn't want to eat. He loves to be brushed, and nestle under the covers. He has claimed the papzan chair and the comforter on top of it as his own, and every night after our 9pm potty walk makes his nest until we are ready for bed. He loves frozen Kongs and going for rides in the car. He loves going to Nana & Papa's cottage on the river, going out on the boat, and swimming. He
always gets compliments on his doggy life jacket fashion sense. He has made many friends in the neighborhood and often has doggie parties in the yard behind our building. Maggie is his best doggie friend. She is a 3 year old Boston terrier. They play together at least once a week, and their potty schedules are very similar (wink, wink) so they often see each other daily. Gyro is a lab who is very small dog friendly. They play well together, and I think Parker gets excited when he can get Gyro to jump over him in a game of tag. Parker feels very at home with his friends because they are all rescued pets who have found their forever homes. He is a sweet, loving, happy dog who has never shown an aggressive bone in his little body. He is sweet to all animals, and loves to watch the squirrels quietly as they play outside the screen porch.
Thank you for rescuing Parker and taking care of him. I believe he was truly meant to be a part of our family. I can't thank you enough for the big furry hearts that you save. Soon he will be getting a new playmate as Nana & Papa will be getting another cocker spaniel in the next month. (I have let her know that you have a cocker (Buster) that needs rescuing. I'm sure she will be getting in touch if he is still available.)
Thanks again Karron!
Love,
Heather & Parker
---
Dear Karron,
I am writing a letter to you to tell you how much fun I am having in my new home. My mom and dad take me for lots of walks, we go to the park every week-end and I am very spoiled. They are always cuddling me and petting me. They tell me I am a very good girl, I am not jumpy or snappy, I don't bark very much, and I love everybody. My mommy even has a friend with a new baby and I pretend she is my baby and clean her feet for her. I have never bit anyone, I'd rather kiss them!!!
Mom comes home during her work day to spend sometime with me and give me lovings and we go for a long walk together too! I love that. I wait by the window and watch for her and then run to the door when she gets here! I even learned to go to the bathroom outside in just one week!!!
The last few times I went to the doctor I weighed 8lbs. I don't think I am going to grow much more than that, but mom and dad like me just as I am.
I like to play with other dogs too, sometimes I get nervous around really big dogs, but I'm pretty brave, and just tell them to go away if I don't like it. My new name is Minni, and I like it alot, whenever I hear it I run to the person calling me, and guess what else?!! I know how to sit, stay, and lie down. I also know No! My favorite is to sleep under the covers in the bed with Mom and Dad all the way down at their feet!
I hope you are doing good!
Your friend, Minni aka Elsie
---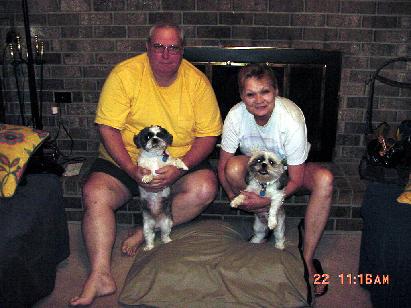 Dear Karron,
I am very fortunate to have found my little bonded, loving Shih Tzu's and your wonderful organization. These fur babies are my constant companions day and night. They have a senior brother who they have taught to run and play and have breathed life into again.
I know if they could, they would want to thank their foster parents for the love and care given to them, and would want them to know they miss them; but life is beautiful in their forever home and they never want for anything. The love and praise and toys abound. Their new Mom and Dad are very trainable. Heck, we even have them cooking veggies for us. Life has blessed us all!
Thank you one and all,
Sharon Rauch
---
Hi,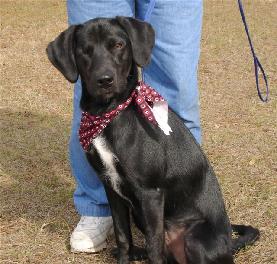 I wanted to get in touch with Pat, but can not find her email or phone number. I just wanted to update her on "Sammy". We adopted him several months ago. I drove up with my children and our other dog "Sir Mutt" to meet Pat and Sammy and we loved him immediately. I promised to send digital photos, but just haven't yet. I want to let Pat know how great Sammy is doing. He is so special and so sweet and we just love him to pieces. My husband is especially fond of him and calls him "Crime Dog" – because he always steals his tools and hides them when he's working. It has become a game they play – Sammy hides things and he has to find them.
Anyway, he loves living on our five acres. He runs and runs and runs and then runs some more. I need to stop him from catching the turtles and bringing them in the house – but he's really a happy pup! The plan was for him to stay outside a lot, but of course , they both stay inside most of the time – our other dog can open the door, so they come in and out as they please!
Thanks for saving Sammy for us – we can't imagine being without our "little one".
Love,
The Blore Family
Michael, Kim, Kasey, Kyle, "Sir Mutt" and "Sammy"
---
Precious with new Mom and Dad
Dear Karron,
After being with George and me for 18 days, Precious has adjusted to our schedules very nicely. She is a cuddly little love-bug! She sits with George while he reads and she helps me watch TV, too. She loves her veggies and eats a little bit every day. Tonight she had a little bite of broccoli, cauliflower and carrot. She also tasted my steamed salmon. There was no fat or salt on it and she really savored that taste. She has not shown any finicky days, except for the first day.
She likes to watch the hummingbirds as they sip nectar from their feeder. She is alert and watchful as we sit on the porch and watch Hef, our ram, and Rosa, the donkey. Of course, she likes to lie on the carpet on the sunny spots. On the second day here, she was eating a normal diet of her dry kibble and supplemental bites of veggies.
In the recliner is a blue-and-white hand-crocheted throw that she loves. Sometimes I turn on the reading lamp to give her some extra cozy warmth. Then I wrap her in the throw and she snores beautifully. She looks so pretty with just her nose sticking out of the throw!
George is really happy that we have her, too. Because I am at home more, she seems to prefer me, but she really likes him a lot, too. I will give her the Heartgard medicine on May 17. I registered her microchip with Pet Finders and with Home Again. She is a lovely little girl and we are very happy to be with her. We both talk to her a lot and she is very responsive. Some days it seems like Precious was ALWAYS here! I was afraid that she would be shy, but she has accepted us both so very well.
When friends come to visit, I put her into her crate. She really isn't quite ready to accept strangers yet. I've read a few articles about Chihuahuas and that seems to be a typical response from the Chis.
Thanks.
Connie
---
Reggie and Ruby
Sorry I haven't written sooner, but I have been having the time of my life. A family who had lost their Willie in August adopted me in January. The first day I met them they gave me a bath and brushed me. I love to be brushed!! I also got to meet Ruby Woo on that first night (she is my owners' grand puppy).
Pretty soon after I was adopted, Ruby Woo had a birthday party thrown for her. She was not very interested in all of the gifts so I helped her open her presents and eat her cake. A month later I had my very own birthday party. Boy am I lucky.
Ruby Woo and I do everything together. She is my best friend. We go for long walks and for golf cart rides, of course we bring Mom or Dad along with us. My favorite thing to do is go for rides in the car.
I get my fair share of Dentabones and Dogsters. I also try to eat everything my Dad makes for himself, and sometimes I am successful! Mom says that someday I will grow out of that.
I do miss Pat, my foster Mom, but my new Mom took me over to see her and her doggie Ross. I had a lot of fun on our walk.
Thank you for taking such good care of me before I found my forever home. Not only do I love my new home but I know my new family really loves me, too!
Love, Reggie (Sebastian)
---
Tess and Flicka
Almost exactly two years ago, my husband and I met Lisa when we came to her house to see Tess, an 8-month-old borderline Border Collie who Karron Curtis had removed from Citrus County Animal Control before they could destroy her. That was back in the days when Room For One More was a yet-to-be realized dream. Tess had been injured both physically and psychologically but she knew that she was safe with Lisa. We brought our Border Collie, Flicka, with us because she had the right of final approval, which she bestowed on Tess instantly. And so, the four of us went home together. Since she joined our family, there has never been a moment of jealousy or conflict with the dogs. Tess is so happy in a home where she has learned about love and trust and she returns it daily.
Last month, we were contacted by Diane Conroy who does extraordinary work with Border Collie Rescue. She had been told about a young Border Collie being held at Sarasota Animal Control who could not be adopted because the family that turned him in said that he had bitten their son. This extremely bright and active pup had been tied to a tree throughout last summer's heat and storms. The child amused himself by running back and forth near the dog, teasing him until he snapped a warning at the boy but did not leave teeth marks or even a bruise. Still, rules are rules and the dog was facing euthanasia. Fortunately, there are some very kind, knowledgeable workers at the shelter who recognized that this was not an aggressive dog and called Diane, who at the time had a full complement of seven Border Collies at her house. Diane got in touch with us.
Baxter, as we renamed him because he had a most undignified name for a Border Collie and he didn't know it anyway, came to stay with us for a while. Flicka and Tess welcomed him to our home as we knew they would. I think they knew that he was a dog in trouble. He had never been in a house before but he was housebroken in two days. He was absolutely starved for attention and so eager to please. A couple from Sarasota who were former Border Collie owners adopted him after we got him neutered right after Thanksgiving. His new family adores him and have lots of room for him to play with their other dog in large fenced backyard. Baxter is happy in his Forever Home.
Room For One More not only finds homes for needy pets. The shelter also teaches the people it touches that they too have room for one more.
Judy Engberg
---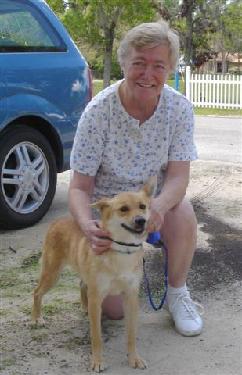 Foxy and Mom Margaret
Hi Karron,
FOXY is doing very good. She is a very smart dog and I've taught her commands that she is being very good with. Wants attention all the time, but learning when I say "NO" she knows it is down time. The only problem that we have with her is that she likes to run, got out twice and had a heck of a time to get her back. I keep screen doors locked now on the Florida room. The whole neighborhood just loves her. She's gt one lady that comes to get her and take her walking, received toys, treats and they stop by and say hi to her. Oh, one day we were walking and she had a couple of pictures taken. I'm telling you, she is spoiled and loved dearly.
Thanks for her. We are leaving here on May 6th and then I'll change the micro-chip address. Have a great summer.
Margaret & Foxy
---
Able
Hi Bonnie,
Just wanted to drop you a line to let you know how pleased I am with Able. He is fitting in so well with my other dogs and the new rules and routines. We all just love him and he is so sweet and affectionate, but also becoming quite protective.
I look forward to bringing him to the RFOM reunion and meeting all of the wonderful people who dedicate time and effort to this noble cause.
Thank you
Rose
---
THERE REALLY IS A SCOTTY HEAVEN!
The little scotty's time had run out! She was next in line! I just happened to go in the back room to check out a bite dog and there she was, right next door. Her eyes were so caked that it was hard to tell if she had both of them. Her ears were hot and inflamed with infection. Her little feet were so swollen from yeast infection, she could barely walk. And her fur was missing in patches. Naturally I took her home!
Three days later, the "Scotty Angel" walked into her life! Although little Bonnie had been taken to the groomer and to the vet and was on medication, she still was in a sorry state. Sandi saw something in that sweet, pitiful little face and decided to take her home to be Little Sister to Doogie and Sasha, her other two scotty's. After a touch and go weekend and a trip to the vet, Bonnie started to show signs of recovery. Today she is a perky little girl who loves her new mom and dad and Doogie and Sasha! She has quickly become the darling of the household and has found her "Forever Home"!
Boo Boo and his new family!
---
Dear Lisa and Bonnie,
I never thought I would get a minute to write you a note. I have been so busy since I got here. Someone is always wanting to play with me. My boy and girl are always taking me for a walk. This morning, I got in a good run before breakfast. My little boy and girl can run fast! I had a nice warm bath in the tub yesterday. My coat is shiny and beautiful. My fur is a gorgeous chestnut brown. Last night, I slept in my girl's bedroom on a nice blanket on the floor. I was so tired, I didn't wake up until 6:30 a.m. Tonight, I am sleeping with my boy. They are going to take turns sleeping with me. I know I will be just as tired tonight because I have already been on two walks. Maybe I can sneak in a nap! I'll write more when I get time. I can see now why the family didn't come to get me last week. God had a better plan for me. I heard the little boy say he was praying there would be a Corgi available for adoption. He was glad his prayer was answered. I have also heard my owners say I am the best dog they have ever known! I miss you, but I am very happy here! I will write again if they give me time!
Love, BooBoo
---
OUR LEGAL STATUS
Doc #N04000009645 issued October 11, 2004, on file in Tallahassee. Registered with Florida Department of Agriculture & Consumer Affairs. Copy of the official registration and financial information may be obtained from the Division of Consumer Services by calling toll-free 800-435-7352 within the state. Registration does not imply endorsement, approval or recommendation by the State. All dues and contributions are tax exempt to the full extent allowed by law. Our registration number issued by Florida Department of Agriculture & Consumer Services is CH18409. 100% of all contributions are retained by Room For One More Pet Rescue, Inc. No percentage is retained by any professional solicitor.