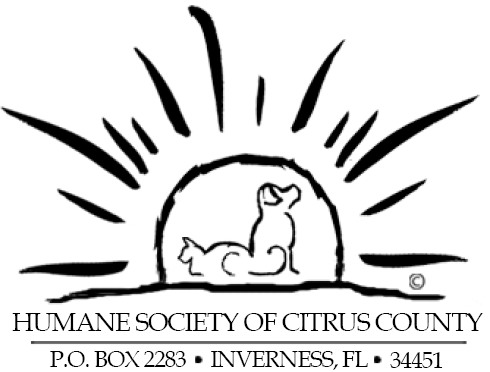 The Humane Society of Citrus County, Florida, Inc. has joined hands withRoom For One More Pet Rescue Inc to work to accomplish some common goals. We have established the following Mission Statement
Ø     Establish and maintain a shelter/haven for rescued, abandoned and abused animals of all descriptions in Citrus County and make  every effort to maintain a no-kill philosophy.
Ø     Promote humane care and treatment of all animals needing protection in Citrus County.
Ø     Promote the adoption of rescued, abandoned or abused animals in Citrus County.
Ø     Promote spay-neuter in Citrus County in order to help alleviate the overpopulation of unwanted pets.
Ø     Promote the extension of humane education to the youth of Citrus County, as well as to the general public.
Ø     Support animal rights legislation.
To accomplish our goals, we need your help! Our meetings are held monthly, on Saturday at 10:00 AM, at Paws-itively Pets, 751 S Smith Avenue, off Hwy 44 in Inverness. It is about 1 mile east of Wal-Mart.
Next Meeting: To Be Announced
---
OUR LEGAL STATUS:
Doc #N04000009645 issued October 11, 2004, on file in Tallahassee. Registered with Florida Department of Agriculture & Consumer Affairs. Copy of the official registration and financial information may be obtained from the Division of Consumer Services by calling toll-free 800-435-7352 within the state. Registration does not imply endorsement, approval or recommendation by the State. All dues and contributions are tax exempt to the full extent allowed by law. Our registration number issued by Florida Department of Agriculture & Consumer Services is CH18409. 100% of all contributions are retained by Room For One More Pet Rescue, Inc. No percentage is retained by any professional solicitor.